One Button Recording Studio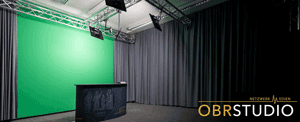 The One Button Recording Studio ("OBRS") is a fully automated film studio where lecturers can independently produce short educational videos, interviews or, for example, rehearsal lectures.
The studio's concept was easily designed so that special technical knowledge is not required for its usage. It originated in a cooperation between the network media, the computer center of the UzK and the ZHD.
Feel free to contact us so we can advise you on the didactic concept of your videos and their embedding in your course!
Click here to get to the One Button Recording Studio Project-Site.